Jowett Car Club America's. Events

2013 NAJR Annual Jive weekend and AGM
Have a look at the pictures of the journey taken in a Javelin fro Los Angeles to Clyde and back here with the narrative (with pictures)here.
October 11 to 14, 2013 Clyde North Carolina.
Jowett enthusiasts,
We are looking forward to the rally in October here in Clyde North Carolina and would like to hear from you if you plan to attend. This will be the third Rally we have hosted and we look forward to seeing you at the rally.
There are local Motels in Waynesville and Clyde as well as bed and breakfast Houses. One is Rustic Mountain Cabin At http://mountainretreat.idealchoices.info/ .
Progress is being made with organizing a fun weekend for the visiting Jowett owners. Last October was fairly dry with fine clear days and moderate temperatures so we hope to see the
same for the rally this year here in Western North Carolina. The fall colors are great and should be a spectacular back drop to the Jowett Bash.
The itinerary for the October 11 to 14, 2013 weekend is very much like we have done in the past;
There will be meet and greet on the Friday afternoon/evening at our home in Clyde.
Saturday we are planing a scenic drive stoping for lunch with the AGM and dinner that evening.
Sunday is a free day to visit scenic sights or relax. We will meet back in Clyde for dinner.
Fall is a peak time for the tourist industry so book early.
Please RSVP to,
Rally Organizers.
Neil Belk & Theresa Miller
4564 Old Clyde Rd
Clyde NC 28721
2012 Rally.
August 24th, 25th and 26 th.
2012 NAJR Annual Meeting
See next Jowett Jive for details of 2012 Rally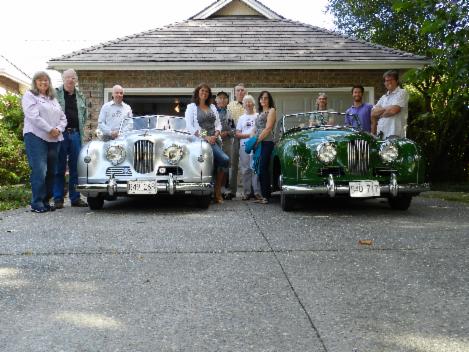 News from Owners
Obituary
Longtime Jowett Jupiter enthusiast Ed Renner has died at the age of 85. Ed bought his first Jupiter E1SA140 at the Watkins Glen race weekend in 1952. The car had been entered to compete but was withdrawn by the then current owner.
Used as their everyday car for a number of years, Ed and his wife Patricia enjoyed touring and the occasional hill climb. After putting a little over 12,000 miles on the car, the crankshaft broke and the car was put in storage, It was later hauled all around the country as Ed took various management positions pursuing his career and raising a family.
In 1969, realizing his time constraints and the effort needed to restore the car, Ed placed an advertisement in Road & Track magazine searching for another Jupiter. There were 13 responses, ranging from derelicts to a Chevy powered drag car.
Ed bought E1SA62 for $500 from a fellow in Wisconsin who had joined the Army. A number of years later, this car, too, suffered a broken crankshaft. The epic tale of the engine, shipped and stripped, thought lost for years but ultimately "recovered" (thanks to the club members who spirited it away), rebuilt and lost again in shipping, finally found and re-installed, was a story Ed liked to recount when he showed the car at various events after he retired.
Ed really enjoyed all the Jupiter offered in trials and triumphs.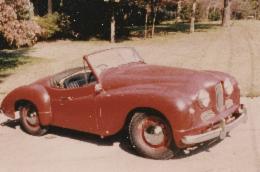 -----------------------------------------------------------------------------------------------------------------------------------------------
Dave Snedden sent these pictures of E2 SCL 948 taken in the summer of 2009. Dave has owned this car since he was in high school in 1962 some 48 years.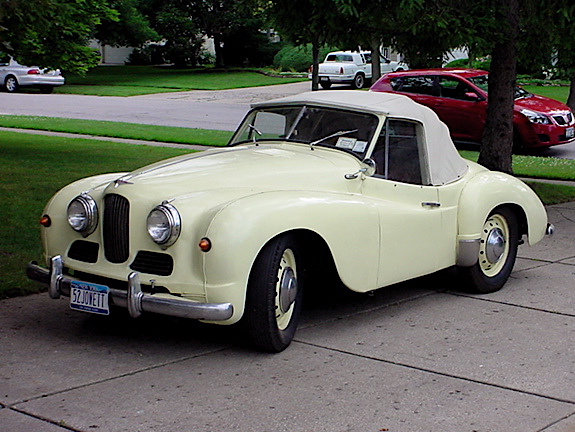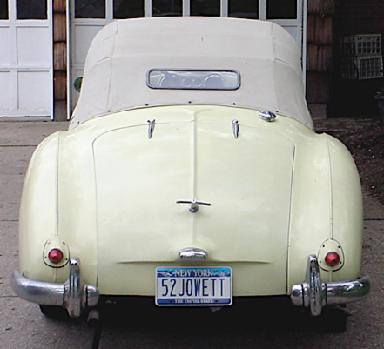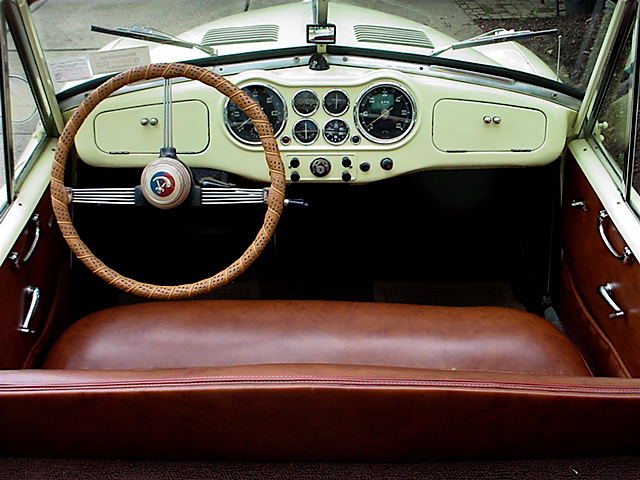 Some nice pictures of E2 SAL 740, and its story from its owner Gustav Josefsson in Sweden.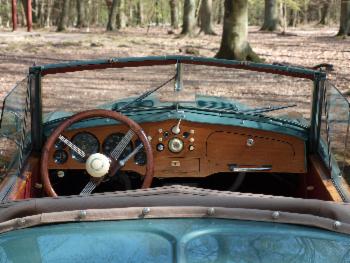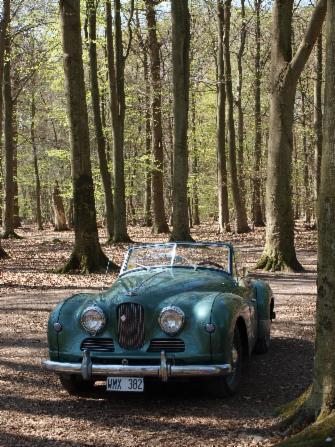 This is the story.
In August 2002 I was invited to a friend, Ib Rasmusen, living in Denmark. As guests he had a gathering of Jowett friends, most of them coming from England. They were driving Jupiter cars. Among them there was a guy from Los Angeles, California, US. His name was James (Jim) Miller. He had some years before visited Europe in one of his Jupiter cars and had made a successful trip starting in England.

At that time, so even today, I draw my Jowett Javelin from 1951. Jim was impressed of my renovation of that car. So he offered me one of his Jupiter cars! At that moment I said no! But two years later on I saw the possibility to take care of just a Jupiter. I had got a friend who was interested in helping me to restore such an unusual car.

Jim put Jowett Jupiter 740 on a ship for Gothenburg and in October 2004 the hard work had started. In October 2006 a "head turner", Jim's word, went to the road! It is the only one owned of a Swede in the Swedish car registry. There is one more, a gay from Norway who in summertime is living in Sweden, ownes it. I met him at a British Car Meeting some years ago.

I am very proud about my Jupiter! Everywhere people admire it.
Gustav Josefsson
A CANADIAN AT THE COURT OF THE JOWETT CAR CLUB OF AUSTRALIA

It was in the summer of 2005 that Ed Wolf had a short article in the Jowetteer offering Jowett rides to members of the British club to help get as many Jowetts to their 50th Anniversary Rally at Armidale in New South Wales. As this seemed to be a good excuse to re-visit Australia we sent off an E-mail to Ed saying that my wife, Barbara, and I would be pleased to help them out. Correspondence was exchanged and Australian money orders sent off to confirm our attendance. In January we booked our flights from Vancouver to Melbourne, to return from Brisbane. (We had some other plans for visiting friends and relatives). We were lucky to find that Quantas had a seat sale, so we saved some money. A promising start.

On April 1st we drove from our home in Prince George, B.C. to Vancouver and stayed overnight with a friend. On Sunday April 2nd we flew out of Vancouver for Los Angeles, and then on to Melbourne where a distant relative had arranged a B & B for us. It turned out that the owner was a car enthusiast who owned two 1948 Holdens, and had heard of Jowetts. From there we drove south and stayed with acquaintances close to Apollo Bay. An all day drive along the Great Coast Road finally got us to our Australian hosts, the Kelly family at their 1850 house in the Adelaide Hills. Tim Kelly has about 10 Javelins and two Jupiters along with a Bradford van.

Sunday April 9th (by our calendar) we set off after lunch and a driver's meeting, for a short leg to Peterborough. I was driving their UEE 683 a 1949 PB Standard Javelin (Chassis No. 5749), Tim a Copper coloured Jupiter, Tim's wife, Janet, a Green Jupiter and Tim's father, Paul, the Bradford. Janet's parents, Arthur and Kath Lloyd had a "Ute" which was carrying all of the spares parts including a spare engine. The Ute was also towing a holiday trailer. The Javelin had belonged to Paul and was estimated to have been driven more than 200,000 miles, including a trip to Perth. Our first stop was at Williamstown where Tim checked out all of the vehicles to insure that everything was working, but learnt that the Bradford was not running very well, so they changed the Fuel Pump. A bit further down the road it was discovered that the carburettor was loose and fixing that improved the running. To assist with communications we had four radios, but Paul didn't have one and when he went straight on where we were supposed to turn right; things started to go wrong.

After waiting for Paul to come back we decided to go in the direction that he took and headed for Clare. Along the way the Copper Jupiter broke a piston. Tim decided that we would have to stop overnight and he would change the engine. The family stayed at the Clare municipal campground where they rented a cabin whilst we found a motel close by. Our room was nice, but a large family of millipedes kept trying to move in with us! When returned to the camp site for supper with the family, a visitor had arrived who had seen the Jowett's. It turned out that he had been the Jowett dealer in Clare and was intrigued to see our group. It proved impossible to switch engines due to a bronze bushing that would not come free. In addition Paul and Tim were not happy with the front spring and shackles of the Bradford Van. Our new found friend was able to find safe storage for the sick cars, and Janet, with her father, went 140 km home to bring a more modern Holden to help carry stuff and people.

Late on Monday morning we set off to drive 395 km across the Outback to the mining town of Broken Hill, just over the border of South Australia and NSW. We made it, arriving in the dark, after stops for cuppas and lunch. We all stayed in the campground that night and we were quite impressed with the cabins that one could rent. These were well equipped with microwave ovens and TVs. Continuing on Tuesday, a journey of 424 km, this time heading for Cobar, another mining town. The Javelin caused some concern as a spot of oil was seen in the radiator, so Tim tightened up the cylinder head bolts and off we went again. I had strict instructions to keep an eye on the temperature gauge, which never moved much any way. Between Broken Hill and Cobar we were intrigued to see Bentley and Rolls Royce cars passing in the opposite direction. At a fuel stop in Wilchenna, we asked the driver of one who was getting fuel and he explained that there were 19 Bentley and Rolls Royce cars driving from Sydney to Darwin.

In Cobar there were only a few cabins at the camp site so we found a motel. The people in the next room had a Range Rover and were towing a Formula Atlantic race car to a Historic Race meeting. That evening the Javelin was checked out by Tim and declared OK to continue. Off we went again the next day headed for Connabarabran. Now we had an established routine, Tim lead with the Jupiter, we came next in the Javelin followed by Janet and family in the Holden, and finally Arthur and Kath in the Ute. We would stop for fuel in the morning and then after about every 200 km, cuppas in the morning and afternoon, and find somewhere to buy some lunch. (Usually Hot Pies).

The roads were two lane black top in quite good condition. The Australian roads do not have to experience the extreme of temperatures that are experienced where we live. The traffic lanes were narrower than we are used to and the big trucks (lorries) filled most of the lane. As we drove at 80 to 90 kph most of the time we had to watch out for them overtaking. If I didn't spot one in the mirror, I heard on the radio that one was behind us. We tried to make it easy for them to overtake, and only had one near miss when I was turning right into the Connabarabran camp site when one passed on my inside using the shoulder of the road. Occasionally we saw warning signs for Kangaroos and Koalas that might be on the road. These reminded us of our Moose warning signs at home. We only saw two live Kangaroos, but also saw some Emus and a Camel! Unfortunately we saw very many dead Kangaroos at the sides of the road.

Thursday was the last day on the road, and we drove a total of 297 km, from Connabarabran to Tamworth where we had lunch in a shopping Mall. Then it was back on the road for the last leg to Armidale. After Tamworth we encountered a long steepish climb named Moombi 1. The temperature gauge was anxiously watched as it approached, but did not reach, 100 C. A stop at the top to allow the Ute to catch up was good, and them we went on, only to encounter Moombi 2! This time I used third a couple of times to get more revs on the fan and water pump, but otherwise the Javelin pulled well in top gear. We kept going after this and at about 4.00 pm arrived at Armidale. The total distance was just under 1700 kms, and the Javelin averaged 36 mpg. For comparison, the Toyota Corolla that we had rented for the Melbourne to Adelaide trip averaged 37 mpg.

Friday was a free day and we found a free tour of the town. That evening was Rally Registration and a Barbecue supper at the campsite where the Aussies stayed. I don't know what the other campers felt about all of the Jowetts running a round! The Brits, and us, stayed at a Motel. It was neat to see all of the Jowetts parked there. First thing each morning was an informal visiting session until the familiar sound of Javelins and Jupiters starting up was heard. The Three Day 50th Anniversary Rally consisted of a Navigation Rally in the rural area west of Armidale, and in town Observation Rally to check out noted buildings, a Concours, Driving tests and two dinners, one at the Jockey Club and one at the Bowling Club. The Concours was held in Curtis Park and was opened by the Mayor of Armidale. The afternoon was spent on the Navigation Rally which included a stop at a museum in Uralla, a visit to a foundry and to an Anglican Chapel on a private estate. We took part in the Observation Rally on Sunday morning and after morning tea at Central Park all the Jowetts drove to the Rugby ground where we carefully parked on the grassy spectator terraces for a group photo. Sunday afternoon was reserved for the driving tests set out on the local driver training centre's concrete skid pan by the local sports car club. I asked Tim if we should take part, and he said yes, as long as I remembered that the Javelin had to be driven back to Adelaide afterwards. The tests were fun, being more a test of agility than speed. I must have behaved myself as I did not set fastest time of the day! The Javelin, with Brian Holden aboard, did get back to Adelaide.

On Monday Doug Rath took us to Brisbane, our next stop which was a journey of about 400 km. I was passenger with Doug in his Jupiter, and Barbara in their Javelin. Doug's car has a Ford gearbox and overdrive. He estimated that it would cruise at 70 mph at about 3500 rpm. We stopped at a place called Tenterden (sounded familiar to us as we had been brought up in Kent, England) for lunch which was a hot beef, ham and cheese pie. About 6.00 pm we were delivered to our next destination and the Rath family left us to continue with our Down Under holiday. The remainder of the trip could not compare with our Jowett holiday!

We greatly appreciated the generous hospitality of the Kelly family and the Jowett Club of Australia. A discussion about where the 2008 Rally would be held had us voting for Perth, as that would be a good excuse for a visit to that side of Australia.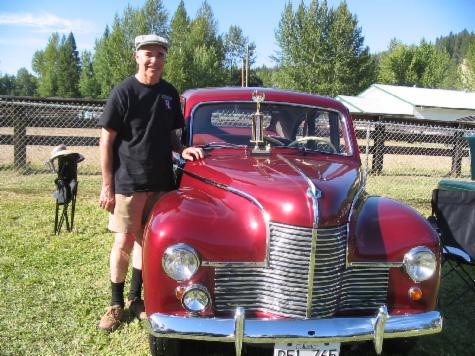 Robin and Barbara Fairservice




Visitors Experience a Jowett Adventure in Australia

The Jowett car connection unites owners all over the world in a common bond that transcends international boundaries. With the advent of world travel and the internet, it is easier to seek out Jowett owners and share a "mania" about a special automotive marque. Dave & Judie Burrows recently had one of those special adventures when visiting Australia. They recently planned a twenty seven day trip to Australia to see those parts of Australia not seen on their first visit and to visit special friends in the Land Down Under. Owners of a Jowett Jupiter E1SAL125R, Judie suggested Dave check for an Australian Jowett Club and they immediately found the web sight for the Jowett Car Club of Australia. Their first surprise was finding the home page with three photos, one of which featured a Jowett Jupiter that turned out to be their Jupiter. The web site also included club officers and representatives for various areas of Australia. Dave & Judie contacted Brian Holmes (president), Andrew Henshall (Secretary), and Rex Maddock (Tasmanian Representative). They received a warm response and Dave and Judie let everyone know the approximate times of their visit. Since they were traveling independently of any tour, they were flexible in their planning and the time available to meet Australian Jupiter owners.

Dave and Judie arrived first in Sydney and were greeted by friends. Unlike the rest of the trip, their car contacts included Morgan owners in Sydney since they also own a 1951 four seat Morgan +4 tourer and a 1957 Morgan 4/4 roadster. The Australian Morgan Owners got them of to a quick start. Within six hours of landing in Sydney, Dave would find himself riding in a Morgan and along with Judie & friend Gwen would join a Morgan owner for a special dinner together. The Club also organized a second meeting with club officers and a small gathering for the second day in Sydney, so the car adventure got off to a rousing start. This would be just a preview of the adventure that awaited them with the Jowett Club. Dave and Judie would fly on to Tasmania on day three, promising to return to their friend Gwen's 80th birthday celebration a week later.

Contact had been made with Rex Maddock in Hobart Tasmania and reconfirmed before leaving Sydney. Dave and Judie planned to meet Rex in central Hobart where his auto shop was located. Rex was known to own over twenty Jowetts and Rex was awaiting his American guests as they pulled up to his Federal street location. This was the start of an amazing adventure for any Jowett enthusiast. Rex showed some of this handiwork with vintage Jaguar sedan and examples of his skill with a car in bare sheet medal being prepared for a customer. Rex then invited us to see a variety of Jowetts which included Javelins and Jupiters with an occasional Bradford thrown in for good measure. Judie couldn't believe she was climbing into second floor recesses filled with Jowetts that had been hoisted into the second floor. Rex was the consummate tour guide as we also explored adjoining buildings holding even more examples of this huge Jowett collection. Returning to his office we spotted a picture of Rex and his wife Elaine with a copper colored Jupiter owned by friend Leo Bolter in New Zealand. I told Rex that Judie had ridden in this Jupiter while in New Zealand in 1990. This is an example of how Jowett connections seem to unite everyone the world over.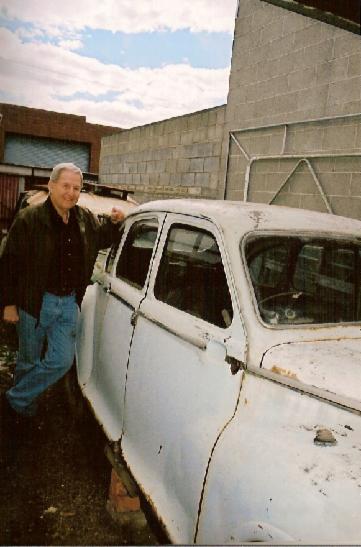 Dave with Rex Maddock's Javelin

Rex then suggested that we join him and his wife Elaine for a tour of the Tasmanian countryside. Elaine was home near the shop and our adventure to take us to their second home in Margate about 30 miles south of Hobart began. After touring and a delightful dinner with the Maddock's at their Margate home we were escorted back to Hobart and our B&B in Lindisfarne. The day would end 10 hours after meeting Rex and Elaine and we would marvel at our gracious hosts and our good fortune. In leaving Rex and Elaine, we promised we would contact them upon returning to Hobart after a 5 day tour of Tasmania.

We then toured Tasmania, staying in Coles Bay, Launceston, and Queenstown. We even had the good fortune to be following a tour of twenty Bugattis touring Tasmania out of Queenstown on their way to Hobart. Upon returning to Hobart we contacted Rex and Elaine and shared a wonderful dinner together in the suburb called Bellerive. Rex suggested that he contact a close friend who was an avid collector who lived nearby, so we started off from dinner for another indescribable adventure. His friend, Derek Chambers, was a builder and owned a 40 room house filled with a collection of such diverse items that it would take 3 hours just to do a quick tour. His main interested was advertising collectibles such as enamel signs but his wife collected a variety of porcelain objects of art in a magnificent house that once housed the local government courts. Arriving back to our B&B after midnight, we thanked Rex and Elaine for another unexpected adventure in Tasmania.

During dinner Rex shared many photos of Jowetts. One of the most unique examples was of a heavily modified Jupiter that for want of a better word, we called the Batmobile. This strange finned Jupiter with an unusual hardtop and bubble windows was one of those urban legends of a unique and highly unusual Jupiter. Rex believed that the car was sold and that the new owner would return the car back to its original state and a new design for a hardtop. The attached scans of the car as seen in 1962 and later modified in 1963.

We then returned to Sydney and our friend Gwen's big 80th birthday party at her daughter's home near the Blue Mountains. Our next week included touring Sydney, Canberra, and Tuross where we stayed with Gwen's son Barry and wife Lynn. This would give us an opportunity to rest up for our next adventure as we returned to Sydney and our flight onward to Brisbane. Judie and I were excited since we knew we would be greeted by Brian Holmes near the Brisbane airport at a gas station. Judie was worried how we would know him, as we left the airport. It was not to be a problem, since as we left under a bright sunny sky from the airport; we spotted a beautiful red Jupiter sitting beside the road along with a smiling and welcoming Brian Holmes. Brian had taken the time to meet us before he left the next day to attend the National Jowett meet in New Zealand. His plan was to introduce us to local members for a special Jowett gathering the next day. After introductions and a lot of picture taking, Brian invited Judie to accompany him in his 1951 Jowett Jupiter for a top down ride into Brisbane.

Dave and Judie with Brian Holmes and his Jupiter.

We would then arrive at our Bed and Breakfast called Cream Gables in New Farm, within walking distance to central Brisbane. We would share Jowett stories, photos, magazine articles and Brian set up our contacts for the following day expedition with a group of Jowett owners in the countryside outside of Brisbane. The B&B owner, Ann even asked Brian if she could take his Jupiter for a ride and was impressed that this beautiful Jupiter sat glistening in the driveway. Brian gave us detailed directions as how to meet our next day hosts and even after spending the afternoon with us, was sorry he was leaving for the New Zealand rally, which we later found he thoroughly enjoyed. We felt it was wonderful that Brian managed to entertain his American guests even with a travel deadline.

Up bright and early the next day, we would travel to our designated meeting point outside of Brisbane on the road toward the Sunshine Coast. We met Barry Houston in his Silver Jowett Jupiter and family members in a follow car. The plan would be to meet in a local park and then travel as a Jowett convoy to a special miniature Railroad park where small trains capable of carrying people operated by railroad enthusiasts. Additional Jowetts arrived including several Javelins and another Jowett Jupiter. Dave and Judie met a variety of Jowett enthusiasts and could feel another Jowett adventure coming to fruit. We all headed off to the railroad park where picnic baskets were unloaded and the Jowetts parked giving a good representation of club member's vehicles. Doug Rath, Editor of the Javelin, brought two Jowetts including his white Jupiter in Race form, and his blue #66 Javelin Sedan. Barry and Bonnie Houston had their silver Jupiter and Neil Thompson had his wonderfully restored Ivory Javelin. Lionel and Mary Harvey arrived in a wonderfully restored grey Javelin sedan to complete the Queensland Jowett group. A lot of Jowett stories were shared and again another round of picture taking took place for Dave and Judie. It was an interesting setting of Eucalyptus trees, with miniature trains riding passengers along the tracks winding through the tropical forest with an occasional Koala Bear sighting among the branches. Unfortunately all good adventures have to come to an end. It would be a special morning and afternoon to remember before returning to Brisbane with the excellent guidance of Barry & Bonnie Houston.

Dave and Judie with Barry Houston's Jupiter.

It would be a special trip for Dave and Judie especially in terms of the special people who entertained their American guests and reinforcing what a special country Australia is for visitors from abroad. While Dave & Judie shared photos of their cars with everyone they met, many owners may be interested to know something about the Burrows' Jupiter. It is E1SAL 125R and was a result of a three year ground up restoration which was finished in 1990. The car has been featured in both American and European automotive publications and continues to win many Best of Show awards in the Pittsburgh area. As mentioned the Jupiter shares garage space with their four seat 1951 Morgan which was an original Morgan team car during 1951 competitions in Great Britain. The companion 1957 Morgan 4/4 (Ford Cortina GT engine) was also a result of another 3 year ground up restoration by Dave & Judie.

We would like to thank everyone in Australia who went out of their way to entertain total strangers and give them adventures that will be remembered for a lifetime. If any Jowett traveler ever gets to Pittsburgh, we will be glad to hear from you and perhaps an equally exciting adventure can be arranged. Dave and Judie Burrows can be contacted at HYPERLINK "mailto:burrdjd@comcast.net" burrdjd@comcast.net.