Restoration Projects

E1 Sal 530
Owner
Erica Jones.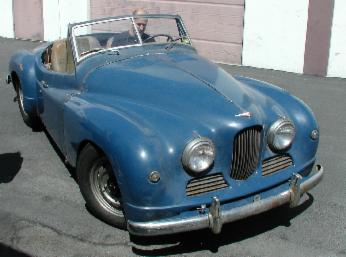 Chassis is 530. Bonnet is 595, both doors 728 and was originally Met.Turquoise.
Car was built in So. Cal by (?) and driven to Salt Lake City. It was purchased by Mr. Jones in the early '70's and driven to Ohio, where it was driven for a few years before having a starting problem and parked. Do not know if it is a Ford 144 or 170 as they are the same externally. Tri-carb Holley set-up with Ford number tags. Do not know the origin of the head yet. Not Edelbrock or Offenhauser.. Ford Falcon 3 speed manual, non-synchro first. Stock rear axle and brake drums, Falcon master cylinder.
The car is back on the road now and ready to have fun.
Progress video of 530
See video of 530

A Brief account of Mike Stout's Trip.
Earlier this year, A new member of the Jupiter Owners Club called me regarding a Jupiter he had recently acquired, together with a list of parts which were missing. As it happened, I had already planed a trip to Arizona so decided to call on Ken Nelson in Palo Alto to see his find and deliver the parts.
Apparently in the early 50,s two brothers, each brought a Jowett Jupiter. Over time , one brother modified his car to accept a domestic V8 with drive train, and the later abandoned it.The other car, undamaged and possibly running, last licensed in 1965, was then winched to the highest part of the property, where it is now. Both brothers are very elderly and somewhat senile.
The aluminum body, apart from the door sills is sound, the red color is primer, but all the interior has been lost by over 40 years of exposure. It is in a similar condition as mine was when found in Sacramento in 1991. Ken has found parts of the modified car, buried with other junk, under the red truck canopy, top right of the car.
Because of the steepness of the driveway and the difficulty of freeing the wheels to role it to the road, progress has been slow. Ken hopes to have it home by June. Luckily the engine, two gearboxes and many other parts have survived under cover. He recently discovered a well restored Jupiter nearby, which will be a useful aid while rebuilding.
I also brought from B.C.a complete front suspension for a Traction-Avant Citroen, which he is also restoring. This 1955 unrestored car, imported from Viet-Nam, was possibly owned by a colonial plantation or Foreign Legonaire, in what was then called French Indo China. It has an elegant open 2-seater body, a fold flat windshield and a cosy little rumble seat behind, but an incorrect front end. I was invited to spend the day at the Arcane Car Society's annual car show and lunch, whose cars could be described as alternatives to concourse classics. But it cannot be said that some were not meticulously restored and when we arrived in a rather tatty Renault 12, it did not look out of place. about 30 cars were on display in a large garage in the center of San Francisco. the only domestic entry was a 55 Crosley, the oldest, a 1931 Austin 7, the roughest, a Berkly, the best paint job, a Thames Freightliner and the strangest , a German Amphicar.
I then set off for Arizona, from where I had arranged to pick up a complete Jupiter hood, because last fall, I was involved in a fender-bender while entering an intersection. I had managed to put my foot on the brake and accelerator simutaineously ending up on the wrong side of a stop sign where I was hit, damaging the hood and left fender. The insurance company balked at the projected 100 hours required to straighten out the folded metal and told me to find another one. When I'd found what I needed, I waited until April to make it a more enjoyable trip. It took me 4 days via the Grand Canyon and Salt Lake City to return to B.C.
Luckily the grills and lights were untouched, and the bent bumper support and exhaust pipe were easily repaired so now the rebuilding should be fairly simple. I found the distance between the pedals was 1 1/4 "; it is now 2 1/4 "!
Mike Stout.
RESTORING MY 1950 JOWETT JAVELIN
I purchased my Jowett Javelin in 1995 from Ian Smith who is a former President of the
Old English Car Club of British Columbia. He had owned it for a few years with the intent to restore it, but had changed his mind. The car was originally shipped from England on August 21, 1950, to GORDON W. BROWN, a dealer at 1040 Alberni Street in Vancouver who received 131 of them. I understand that a total of 416 Javelins came to Canada and 36 to the USA. At one time the Jowett Car Club Javelin Register listed 6 in Canada and 2 in the USA but of these there only now seem to be two in Canada (the other belongs to Eric Aldcroft in Ontario) and two in the U.S.A. A Dr. G. Gills of Vancouver at one time owned my car but traded it in at Hope when the transmission gave trouble. It then went to Naramata in the interior of British Columbia and was not licensed after 1958. When I bought it in 1995 the engine was in pieces in the trunk and the gearbox was hidden
under some cloths. Fortunately there was virtually no rust in the car at all, but the car's interior was in very poor shape due to the hot summers in the Okanagan.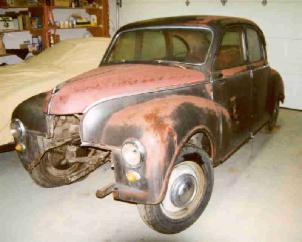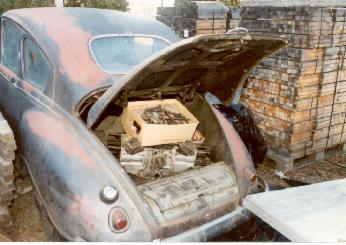 Ian Cox had collected copies of the maintenance manuals and parts list, which have been very helpful in working on the car. I have subsequently acquired via E Bay near new copies of the Owners Manual and the Maintenance Manual. Ian later acquired the 1958 Centennial plates that were originally on the car for me.
A local upholsterer has recovered the seats with red leather. I had new carpets and door panels made for the interior by a Jaguar Interior restoration company in Vancouver. They commented that the door panels are similar in construction to an Mk 9 Jaguar's!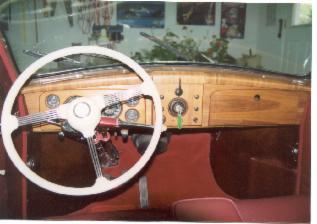 The wooden dashboard has been remade by a local cabinetmaker as water had caused the plywood to delaminate at the ends. I purchased a new headliner from the late Roy Flower of the UK, and the upholsterer who redid the seats helped me in installing all of the interior.
It would not have been possible to undertake this rebuild without a lot of help from many
people. For the engine Mike Smailes in the UK was very patient answering my many
questions and finding missing parts for me, including adapting Ford Fiesta pistons to
replace mine. Kips Motors in Texas were a surprise find as they stock many parts for
what they term British Orphan cars. I have been successful in finding all of the parts that
I have needed, except I was not able to find a pair of new 5.75 inch 12 volt headlights to
replace mine as the silvering of mine had gone. Fortunately Bill Lock in England was
able to get them re-silvered for me. I also took Steve Waldenburg's advice and bought 5
Michelin Radial Tires in Leeds whilst on a UK holiday. When I had to clear customs in
Vancouver it turned out that the lady Customs Officer and her husband were restoring a
Morris Minor 1000! On another trip to UK I bought a spare gearbox and it returned to
Canada with us as checked baggage. My wife reckoned the package looked like a
machine gun, but there were no comments when I checked the strange looking package in
at Heathrow and cleared customs in Vancouver.
The exterior has been painted in a Burgundy colour, instead of its original Grey as my wife insisted that Burgundy would suit the luxurious interior better! Dave Coul, a local
painter who was trained to restore railway passenger carriages, did the paintwork.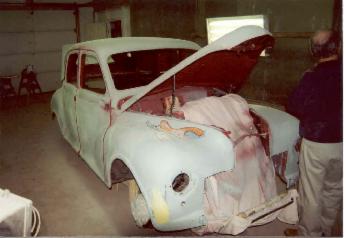 To choose the colour we toured all of the new car dealers in town until we found the
colour we wanted. It was then a simple matter to get the paint code and buy the paint. We have used a base coat/clear coat system. I have no ambitions to take the car to Pebble Beach! Dave also repainted the metal door trims and buffed up various chrome
parts. I assisted with reinstalling the front windscreen, which was a bit nerve wracking.
How to connect up the gearbox linkage was another challenge.
My car is a left hand drive car, but all of the manuals that I have show the linkage for a right hand drive car. Again I wrote to Mike Smailes as I had recalled that there was a left hand drive car in England. The owner, Tim Brown, sent a sketch and pictures of the
top of the gearbox to me. Another stroke of luck was a visit from a second cousin from Perth Australia. He was a retired auto mechanic and had worked on Jowett Javelins. In two days we had the gearbox hooked up and the brakes sorted out. Later I had to take the front brakes apart and on reassembly I had a very soft pedal. Eventually in a telephone discussion with Mike Smailes I realised that I had tightened up the bolts that hold the cylinders onto the back plate and the shoes could not centre themselves. Later on I still had a soft pedal, and we installed a one way valve between the master cylinder and the fluid reservoir which finally cured the problem.
In March 2004, whilst on holiday in New Zealand, we accidentally met Vic Morrison
who is the local Jowett repairman. We were driving towards Christchurch and suddenly
realised that the car that had just turned off the road looked a bit like a Javelin. Slowing
down I spotted it on a side road turning into a driveway, so quickly turned around and
followed, surprising Vic as he got out of his car. We were invited back to his house and I
admired his Jowetts whilst my wife was shown round the paddocks containing Shetland
Ponies. Vic has subsequently been very helpful with advice and parts. As a result of
meeting Vic Morrison we joined some members of the local Jowett club for coffee in
Christchurch the next morning and saw their spare part's collection.
The engine had been rebuilt early on, but later, with the help of a local garage, we discovered that the camshaft was badly worn, two lobes virtually did not exist and although it ran satisfactorily in 2003, it had quite a vibration. During the next winter we finally found out why it vibrated, when the engine was taken out and the flywheel was balanced. The two faces weren't even parallel!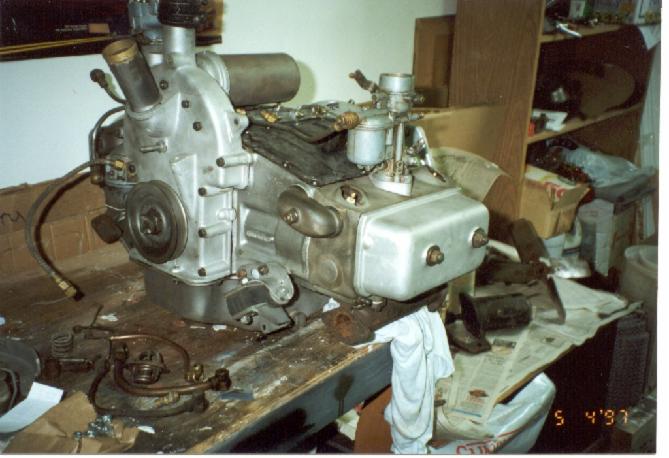 Next we had to find out why the Oil Pressure dropped as the engine warmed up. After taking the engine out again, a local machine shop discovered that the crankcase was 3 thou. out of alignment! This had to be line bored; a process that was finally carried out by Kip Motors in Texas! When the engine was reinstalled I could not start it. After checking the ignition and the carburettors I filled the float chambers with carburettor cleaner and it still wouldn't start. Then I put a fan heater under the engine for a couple of hours and it started straight away! Obviously Prince George in March is too cold for a Javelin, even in an insulated garage.
The clock had to be rebuilt as it was reluctant to keep going and as well the oil pressure
gauge needed a rebuild as it was gummed up inside. I had cleaned the fuel tank sending
unit but I finally realised that it had a leak in the float. I found a replacement in New
Zealand through that club's spares department.
The Jowett Motor Manufacturing Company was formed in 1901, and was based in
Bradford, Yorkshire. In 1906 their first car was registered and it had an 815 cc flat twin
water-cooled engine. The company built various models, with a flat twin engine up to
the Second World War, and in the late 1930's built a four-cylinder engine as well. Near
to the end of WW 2 the company hired a draftsman, Gerald Palmer, from the MG Car
Company to design a completely new sedan. The result was the Javelin, which went into
production in 1948. Production continued until 1953 when 23,307 Javelins had been
produced. Gerald went on to design the MG Magnette, Wolsey 4/44 and 6/90 and the
Riley Pathfinder.
A sports car version, the Jupiter, was also built, and two examples are in the Vancouver area of British Columbia.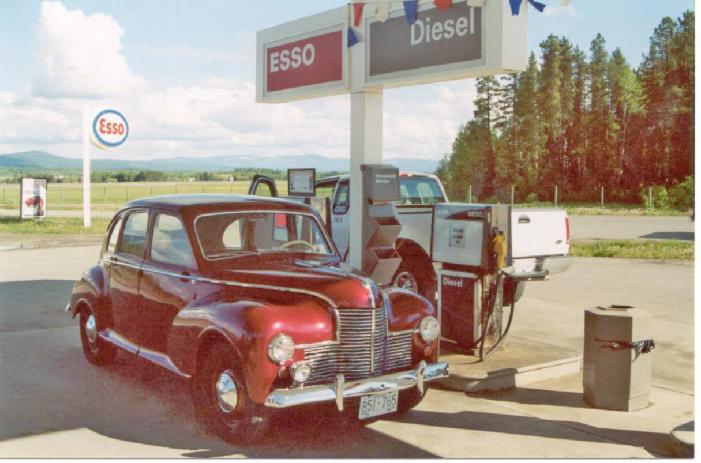 The Javelin has a unitary 5/6 passenger body with a flat four, water-cooled engine (with hydraulic tappets) and a four speed gearbox driving the rear wheels. The engine developed 50 bhp @ 4100 rpm. The springing is by torsion bars, front and back, controlled by hydraulic shock absorbers. The front suspension is wishbones, and at the rear there is a live rear axle with twin trailing arms and a Panhard rod. The fast back styling provides a large trunk and had a Cd of 0.39, which is comparable to many modern cars. The result is a car that possesses very good handling and with a top speed of 80 mph was very fast in its day. In 1949 a Javelin finished 14th in the Monte Carlo Rally, and won the 1100 to 1500cc class. A Javelin also won the 2-litre class in the 1949 Spa 24 hour race.
The company stopped building cars in 1954 and eventually went out of business. The
Jowett Car Club is apparently the oldest one make car club, and runs a Spares
department, which arranges for the manufacture of needed parts from time to time. The
Jowett clubs in Australia and New Zealand also can supply parts.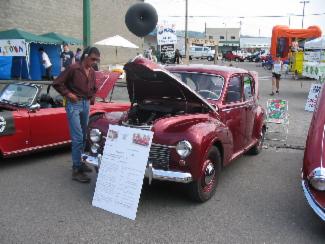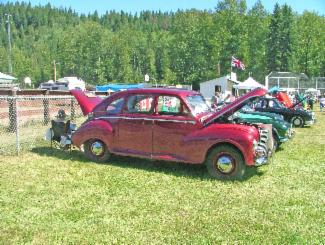 This project has taken a long while to complete and I never realised that I would have such a rare car in North America. While it was in a local garage last summer many people were fascinated with it. With everything put back together I finally was able to drive it on the open road for the first time last summer and was able to get it to two car shows this year.
In 2006 my Javelin won a prize for the Best English car at the Prince George Show & Shine as well as the best European car at the Hixon event.
The car will easily travel at 60 mph on the highway (and up hills) and the ride is very comfortable, as well as possessing handling which does not give a moment's concern. The only non standard modifications are an electric fuel pump and the installation of a Pertronix electronic ignition system which has resulted in near first time starting. I have recently acquired a spare engine which was found in a barn in Ontario. Some parts were missing which I have nearly finished obtaining. I already have a spare gearbox, and having such a rare car this should provide some comfort if something goes wrong.
Robin A. Fairservice, December 2006.
Tabor Lake, British Columbia, Canada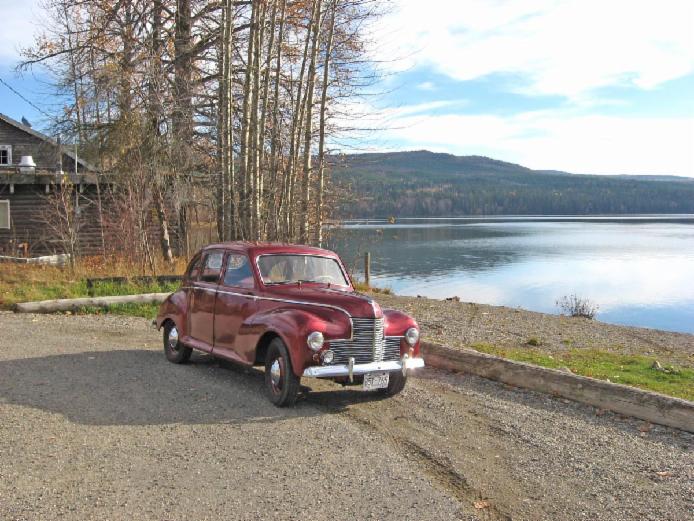 E1 SA 140
Owner Scott Renner
Under restoration. Bonnet to be panel beaten. Ex Red Skelton Jupiter E1 SA 266 with motor and transmission and 140 outside the workshop in Los Alamitos CA.

E1 SA 266
Owner Scott Tisdale
This is the Ex Red Skelton Jupiter. Scott is getting the car running and back on the road as a driver without doing much cosmetically at this time.

The car washed down ready to recieve the motor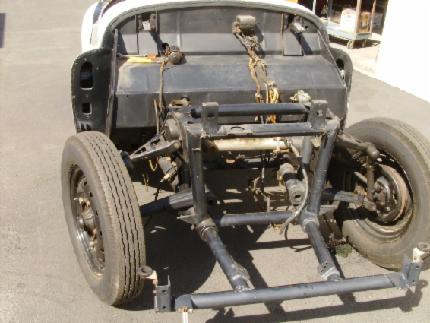 266 motor on the stand Scott Renner built for the Jowett block. One small improvement will allow Mr Renner to completely assemble the motor on the stand, starting with just one side of the block. Upside down to check insides before installation in 266.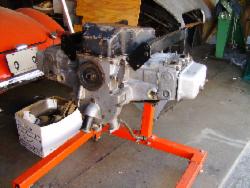 The picture shows the motor and transmission recently installed.

The Jup as mechanically restored as of Sept. 2009
266 in parking lot before start of 2009 California Melee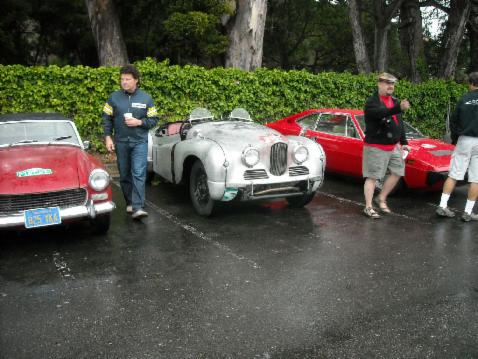 My wife, Saverina and me, Scott Tisdale, took part in the 50 car 3-day California Melee (a pun on Mille) fun rallye in northern California which started here at the parking lot of the Palace of Fine Arts near the Golden Gate Bridge in San Francisco. We towed 266 up from San Diego, just days after Scott Renner's 6-month mechanical restoration and only with around 40 break-in miles on the car, noting that the speedo and tach were not yet operational. Terry Cowan's crew did some final tweaks and threw on some fun paint, primarily to insulate the cowling from rust.
We finally got going around 4pm on Friday, 9/11 (ironically) which put us in SF at 1am, unloading the Jupiter, parking the truck and trailer, then driving into downtown SF towards a decent motel, all the time being hailed by crazies on every block, or so it seemed, most of whom liked the Jup. Wrong directions by a cabbie put us going up Lombard St in 1st gear, then downhill of course putting the 266 thru its 1st test. Finally made it to the motel, slept a couple hours and were up at 8 am and over to the Palace of Fine Arts to the start.
A prank gift from one of the Melee'rs at the 1st day's motel stop.
Got to the Palace of Fine Arts with no problem, other than it started raining, and this is something I had not planned on or hoped for as the cockpit was unprotected. Oh well... Anyway, 50 some odd cars were there, mostly 60's and 70's cars in ragged to ripped condition including Porsches, Triumphs, Jags and Alfas, and some odd balls including a Citroen Traction Avant, a regular Citroen (the ugly one), a DB6, a Bricklin, two Datsun 510s, a Fiat 850 Coupe, Sunbeam Alpine, Sprites, a Rover, a P1800, a Multipla, and a Maserati with the same paint job as 266, and a Morgan.
So, we all got in line for the start and 266 was near the back of the pack, looking for slow cars in order to not exceed Scott Renner's mandated 55mph speed limit as the 1st part of the run was on the SF freeways. The 850 Coupe with a chick driving was behind us and it looked like we could keep up with it. But, whilst in line, Rina said, "Scott, we have no map or directions in our swag bag!" Not good, but I figured we'd just follow the slow guys until we got to the 1st stop especially that 850. That was not going to happen as I found out shortly. As we headed out over the Golden Gate Bridge, the rain starts pouring on us, and cars start whizzing past us even that 850. We're holding on to our hats, I'm trying to see thru the rain and maintain 55 mph of course, but it occurs to me as the last car, a Morgan goes by, that if I don't do something quick, our rallye is over before it starts with no map and no directions. Compounding things, I rear this metal against concrete rattling following us and some guy in a SUV gets my attention and points to the rear of the Jup. So, I made decision to chase down Mr. Morgan, which I did finally, flag him over to the next offramp, which he obliged, check out the rear of the car and get directions. Turns out the bumpy freeways had jolted loose the spare tire cover which was being held on only by the license plate lamp wire. So, I removed the spare tire cover, tossed it in the boot, and wrote down some rough directions from Mr. Morgan's map while still in pouring rain. Our mistake was leaving before the Morgan as I thought he'd catch up to us. Which was true, if we hadn't got lost first! We got on some twisties in which inadvertently led us back to SF, though the driving was fun. All I knew is that we were supposed to stay the night in Red Bluff. And, the only way to get there before dark was to take the freeway (ugh)! So, unfortunately, that we did, however, we got an ovation at the motel as we arrived, and in addition were greeted with some wicked margaritas, courtesy of the Mini Cooper Bar whose rear-end somehow opened up into a full bar. Later, I raised up the bonnet on the Jup only to hear the typical questions of which I'm now getting used to, i.e. "Is it front wheel drive"?
Driver Tisdale at a motel stop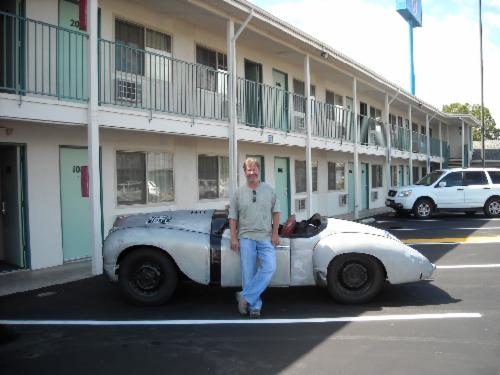 Back to the margaritas, two of them babies and I was in the motel pool with only my tightey whitey's on, cooling off as the afternoon had been over 90 degrees while Rina was crashed out in our room and the rest of the group was at dinner. The next morning I woke up to engines roaring, though I didn't know if the roaring was the hangover I was experiencing in my head, and I immediately went back to sleep. When I woke up again, just about every car was gone from the parking lot and I just remembered to get directions from someone as well as a map. No problem however, as we were just going to head straight to the coast to Hwy 1 and head down to Fort Bragg for night, catch up with the group and all would be good. But, when I checked through the Jup's engine bay, I hadn't planned on 266 being vacant of all fluids practically as it was bone dry on oil, a liter plus down on water, and virtually no brake fluid or transmission oil. Sure faked me out because 266 was stout the whole way up so far. So, I phoned Scott Renner who luckily was available, and he had me tighten down bolts on the engine, and I filled all the other fluids to the brim and tightened up the water pump belt. But, this took awhile as I had to make a trip to Kragen and it was already lunchtime. Thus, I had to re-route us again in order to catch up to the group but this was not to be. While wolfing down an enchilada at the Mexican restaurant below, as I leaned up against the table I felt a sharp pain in my chest over my heart. I felt a golf ball sized lump beneath my skin and I'm not ashamed to say a bit of panic swept through me as I thought "male breast cancer?!"
266 with navigator in zzzz mode at a restaurant stop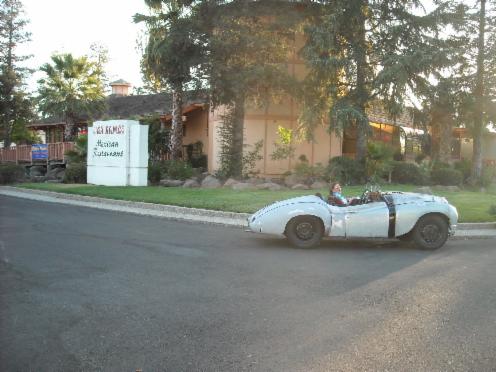 Luckily, there was an emergency room only 2 blocks away from the restaurant and one of the bus boys drove us there in his car. Unluckily, this was just a small and very unequipped emergency clinic, and we made the decision to go to Chico, CA, a half-hour's drive away to a full fledged hospital. Of course, the ambulance was in service somewhere else, there were no taxis, but there was a local "designated driver" guy who worked by "taking donations" and looked like something out of the sixties with full body tatoo's and maybe 50 or so earings on his ears, nose, eyebrows, and you name the place, he had 'em there, and that's as far as I'm going to go with it. As I thought about it, I realized that I had probably gotten a contusion when I was hurriedly trying to unscrew and screw the transmission oil bolt as I kept banging my chest on the mud-guards and not realizing it. I'm also on blood thinners for a genetic clotting disorder I have, and I'm not supposed to play hard action sports like football, etc. So, the doctor in ER confirms this after much testing is done on me, and I'm discharged and told that the golf ball will recede after a few weeks (which it has mostly), but the rallye day is long since gone. Mr. Designated Driver picks us up and brings us back to a motel by the restaurant for the night, but 1st I have to check the car and make sure no one's messed with it. Luckily, everything was there and I grabbed the map to try and figure out how we could catch up with everybody the next day.
Peace, love, fill 'er up, and time to go on a diet...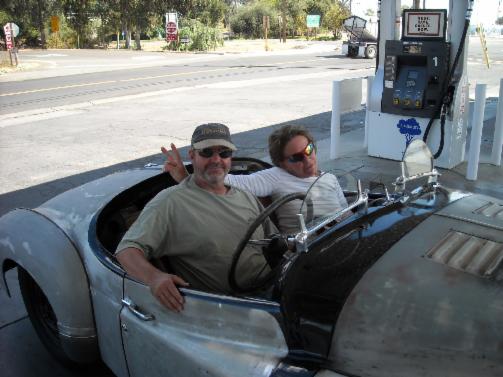 Next morning we were back eating at our favorite Mexican restaurant and we were going over different game plans on how to catch up with the group. But, in the end, we decided not be stupid considering the circumstances by doing something like me getting us lost on more twisties and not making it back to SF in time for the banquet dinner. So, we decided unfortunately again just to peddle back down the freeway to SF. Once there we checked in at a motel in downtown SF, took a little much needed nap, and went to the banquet dinner in the Jup which was starting to run a little rough while warming up, but still once warm drove like a charm. The banquet dinner was fun; it was a little weird as people wondered what had happened to us and I had to tell people that no, I didn't have a heart attack, and so on. We were recognized as conquering incredible obstacles and presented with some cool Melee gear, and all-in-all we had a fun evening.
Which one's got the gas?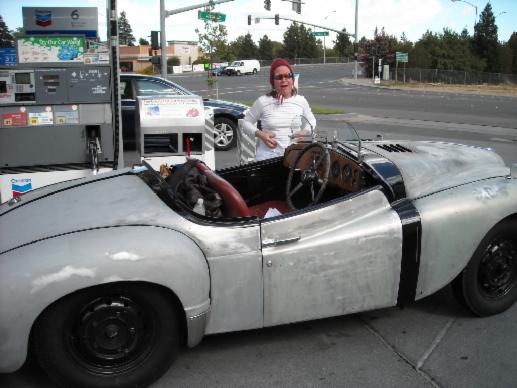 The next day, instead of heading straight back to San Diego, I owed it to my trooper wife to spend some time at Fisherman's wharf where we relaxed, had lunch, and watch many folks survey the Jup. Then it was time to get back to the truck and trailer, which we did by way of Chinatown, and this took awhile. Boy is that place crowded! I didn't like all the stopping and starting on hills and all the traffic lights, but 266 seemed not to mind! We got back to the truck, hooked up 266 on the trailer as its work was done, and headed off back to San Diego. All's well that end's well.
Ahoy down there Mr. 266 looking mighty fine with your MGB seats!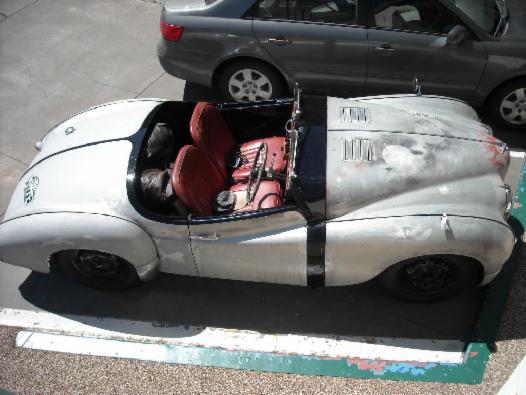 Driver's point of view going over San Francisco Bay Bridge.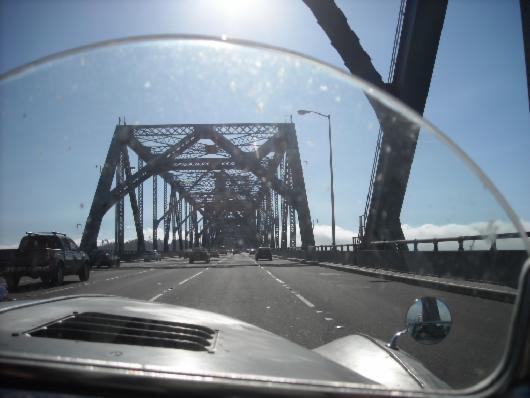 At Fisherman's wharf in SF post rallye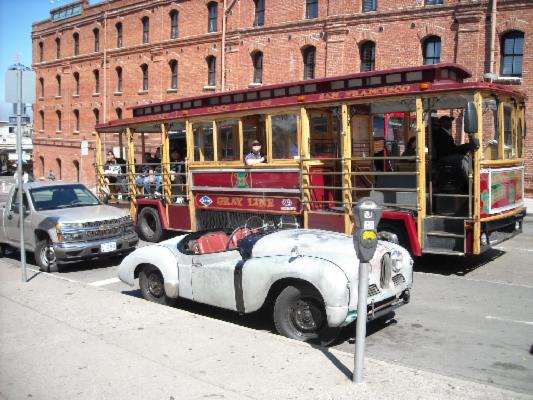 One more pic in SF before heading home to SD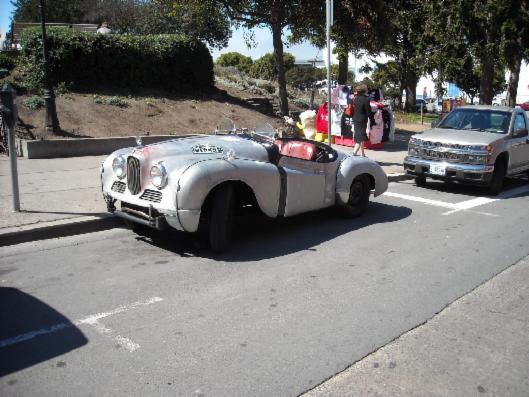 Two weeks later at Coronado North Island navy base vintage races.
Many thanks to Scott Renner for his preparation of the car with a last minute assist from Terry Cowan's team, and to all the people along the way that helped us out. Also, a special thanks to Ted Miller who we all wish could be here to see his car in the flesh and running, and to ole' Red Skelton whose namesake the car is.
___________________________________________________________________
3 weeks later at British Car Day in San Diego: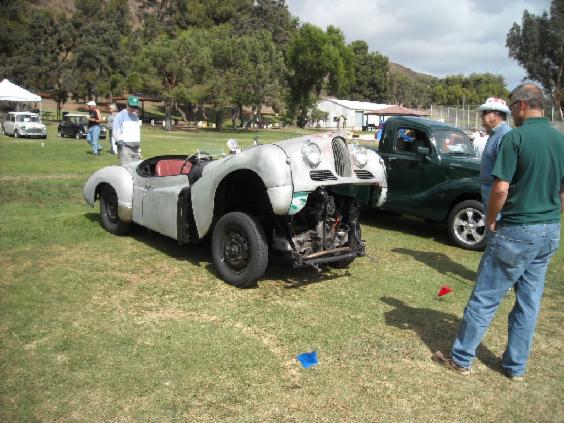 While a beautiful Rolls Royce wins Best of Show, 266 gets "Best Beater" award, though it was explained that it was mechanically restored but not finished.
______________________________________________________________________
E1 SA114
Owner Ron Bennett
The car is undergoing a full restoration in Scott Renner's shop. The Chassis was severely damaged by rust. A jig has been made and the rotten tubing has been cut out and replaced. The new wiring loom and brake lines have been installed.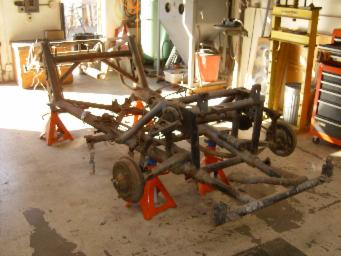 Recent progress. The paint is done and the upholstry is coming next. Engine and gearbox are rebuilt and installed. The wiring is underway along with the chrome.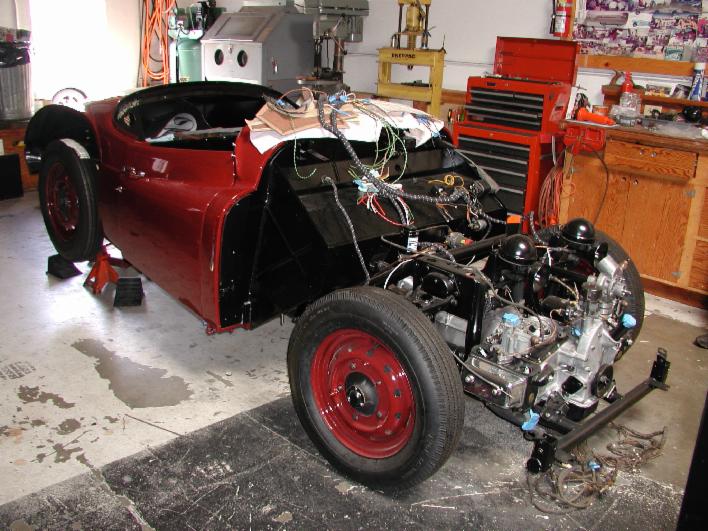 Below whats under the bonnet.
E1 SA 114 Restoration continued
Things slowed down a bit over the holidays,so Im trying to get the momentum back. The slowdown now is that Im trying to replicate the original oil cooler lines. These are tin-coated braided copper outer and rubber inner hose which does not seam to be currently manufactured. The alternative is a modern braided steel line with AN fittings or BSP fittings with a pressure rated black hose. We had the original front exhaust pipe (53084 & 53085) ceramic coated and is now mounted with NOS copper gaskets. The oil cooler is mounted, all wiring is done except for the wires running to the front of the bonnet. After many delays and missed deadlines, the interior is ALMOST complete All the panels are done in a soft biscuit leather and the seat looks great. The glovebox was fabricated and flocked in brown, per the original. The big project in January was to build the frame for the folding hood. Using new ash timber and the two tops from 140 and 758 as templates, The rather complicated pieces were cut, routed, drilled,assembled, trial fit and torn down to fine tune the top to the wind screen and windows. Next all the chrome bits go off to the plating shop. When they return, a final fit will be done and then the canvas part can take place. Not having found a suitable rubber extrusion for where the window will nestle against the wood frame I had the original rubber duplicated. It looks better than the 60 year old original OEM, is softer and very flexible. The window channel in the quarter lights (fixed vent window) is a strip of felt glued in place and works very well. The last things to do well be to get the rest of the chrome done,start the car and mount the bonnet.
Scott Renner.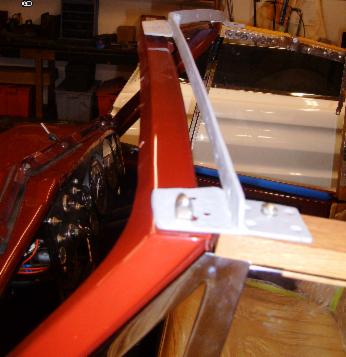 E1 SAL 124 Marion Special

Owner Rob Diepenbroek
Poor condition. Chassis altered for foreign engine. Seemingly this was the donor car for the tube frame torpedo bodied, Jupiter engined "Marion Special" which when seen in the mid 90s had the brass ID plate E1 SAL 124 attached to the turned aluminum dashboard. See pictures.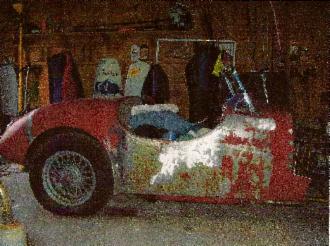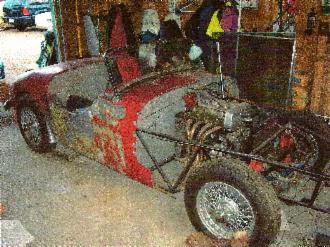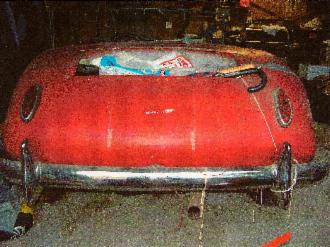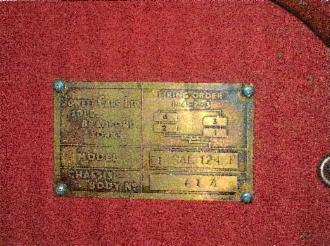 Update on the progress of my 'Jowett'? After working out some front suspension issues to clear up a bump-steer problem, I have begun to build some bodywork for the naked front end. Without any idea of how the Marrion, if it is indeed the car, looked in its hey day, I have embarked on a design of my own leaning somewhat toward a "bug eye" sprite on steroids. Nothing too strange I hope, but after looking at severial "specials" from the 50's to 60's I hope to keep it in the spirit of its age.
Here are a couple of photos of the car taken last October.
Hopefully somoene on the website will recognize the car and help with some information.
Below the Marion Special in 1965. This is the original bonnet for this car.

E1 SAL 58
Owner Neil Belk
Now that the chassis is rolling again we have striped the body sub frame of all the aluminum panels, sandblasted to bare metal and repaired the rust damage. The sub-frame has been primed and painted with a flat black enamel. We will now work at getting the dents out of the panels.Then refit them to the car to try to get the gaps right before painting.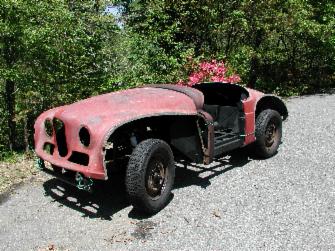 The motor has been striped down to ascertain what parts will be needed to make the repairs necessary to make the car run again. To my surprise the engine had an oval web crank shaft so it is sure that the square web crank broke. We found that both heads were cracked. One valve had had a valve seat insert cut into it but the insert had come loose destroying the top of the piston. The same cylinder had spun a big end bearing causing further damage to the liner and the conrod. Thus the demise of the car had begun.
The engine has sat still for so long that condensation within the engine has caused deep pitting on the cam and crank shafts as well as the bottom of the sump to rust out.
So now I have a list of parts to find.
Work is progressing, the dents have been attended to and the body panels fared and straitened. Some splits and cracks in the aluminum have been welded up. The doors have been strengthened at the top with 3/4 rigid aluminum pipe to try to eliminate the crack that appears at the top of the door due to flexing of the door skin.
Once the panels have been fitted and aligned the body panels will come apart for final sanding and painting in 2009.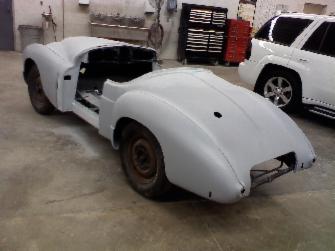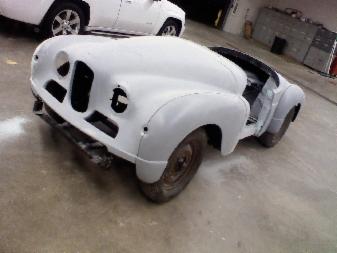 Final painting has started.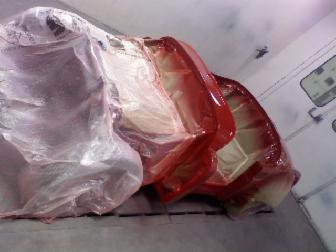 Bench seat project for E1 SAL 58.
The bench seat that came out of the car was in poor shape but had enough remaining foam and leather to get some dimensions for pattern's. After striping the old upholstery from the seat frame I sand blasted the rust off. Then fabricated new sheet metal for the bottom half and stiffening pieces for the seat back. I cut new wood tack strips for the seat back. then I handed the seat on to Bob Hammock to re-upholster in tan leather.
Bob started with sculpting the new foam to fit the seat frame.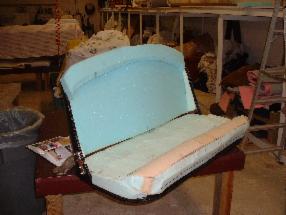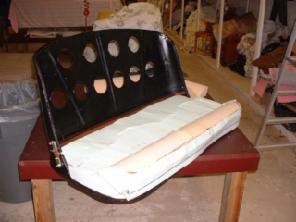 Then after figuring out the dimensions for the panels he cut them out of the leather hide. The panels then had the tuck and role seams sewn in them before assembling the panels to cover the foam.



Final covering of the two halves of the bench seat. All that remains is the re chrome plating of the hinges













E1 SAL 213